Custom Deck Builder In Troy, MO
We're The Answer To Backyard Relaxation
Solid Ground has been the industry leader in deck building for many years in Troy, Missouri. As a matter of fact, our solid reputation comes from the quality of our workmanship creating beautiful decks that add immense value and extra luxurious space to every home we work with. Having a well-built, high-quality deck is as nice to relax on as it is visually appealing. Imagine sitting on your new deck, enjoying a cup of coffee with a freshly made meal as a soothing breeze dances by and the morning sun radiates your skin. Likewise, your luxury deck is the perfect place to wind down and read a book while you have a birds-eye view of your kids playing in the yard! Ultimately, working with professionals who specialize in building custom decks like ourselves will ensure you are completely satisfied with your investment. Make your dream home a reality with Solid Ground.
What Set's Us Apart From Other Deck Builders
Other Areas Of Your Home We Can Build?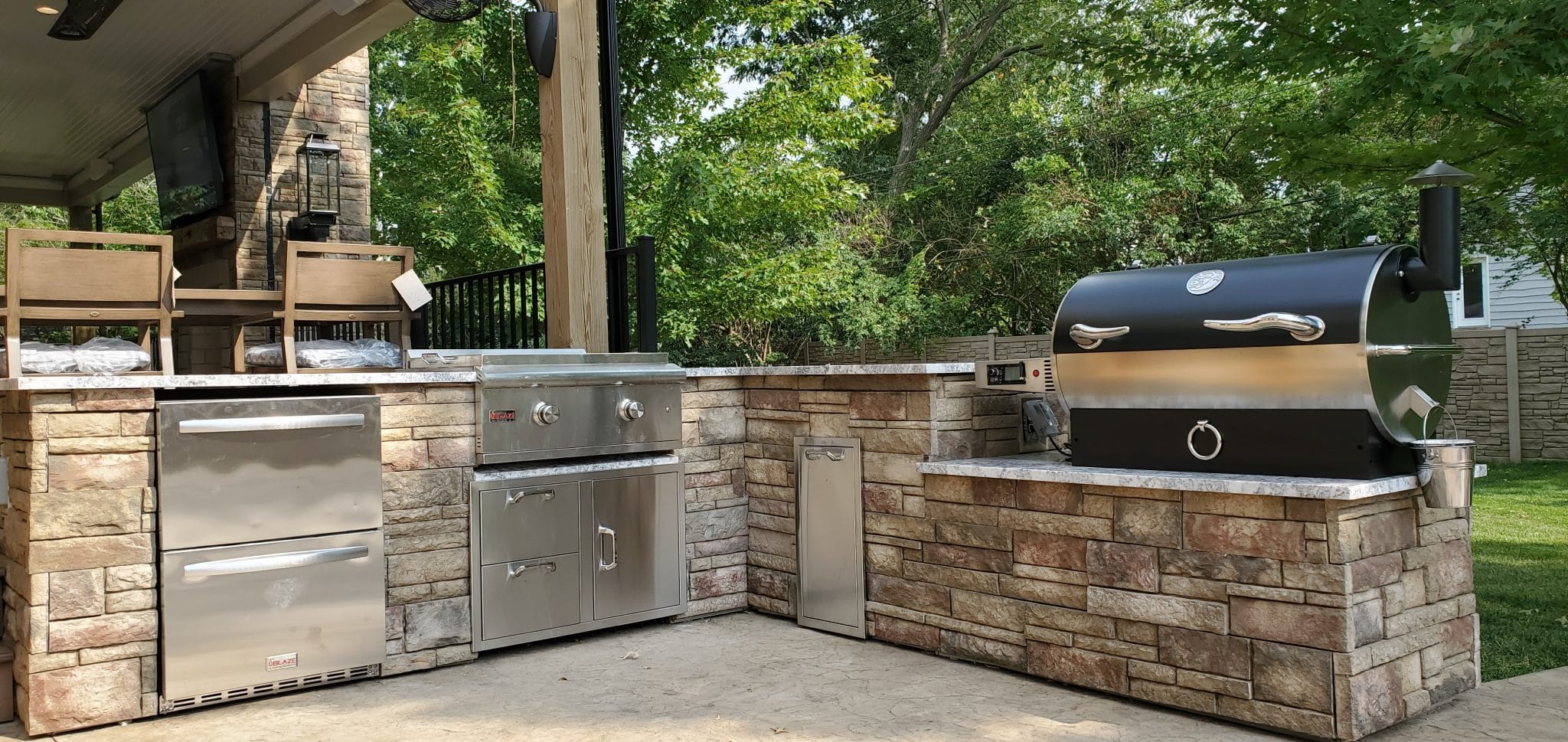 Aside from specializing in building custom decks, we at Solid Ground are also experts in the art of outdoor kitchens. Outdoor kitchens are a stunning addition to any home! Whether you're grilling for the family or having a gathering of friends, an outdoor kitchen allows you to cook in style while enjoying company in the most gorgeous weather. Whatever your vision for your outdoor kitchen is, we will work with you to make it a reality, it's our mission.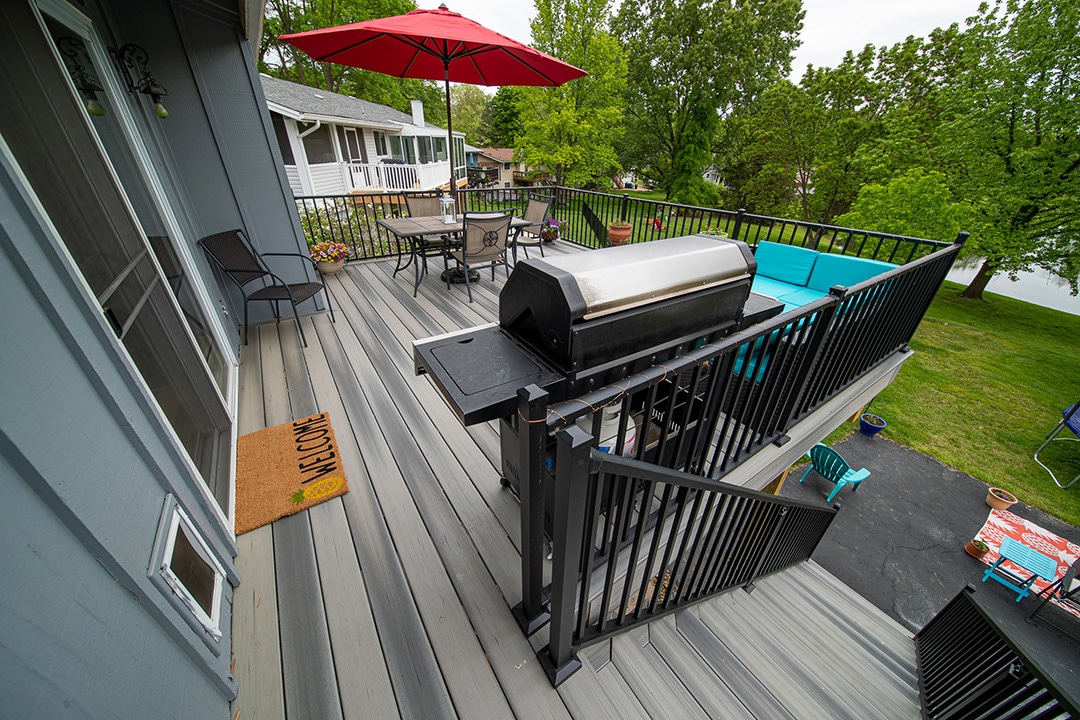 Create your own personal safe haven behind your house with a backyard patio built by Solid Ground. As with our decks and outdoor kitchens, our backyard patios are built with only the highest quality materials by our expert team of builders. Backyard patios are a great place to relax, eat meals, and just enjoy the outdoors. Additionally, they add space to your house, making more room for gatherings of friends and family. All in all, there is no doubt that your backyard patio will blow your expectations out of the water!
See What We've Been Up To

Donna Wallace
This company was consistently reliable, honest, and patient. From the initial estimate to the finishing touches Tommy and his colleagues were anxious to please and flexible whenever I made changes or had difficulty with decisions. I am extremely pleased with the finished product and would definitely use Solid Ground again.
Rachael Woepke
I would highly recommend Solid Ground for any deck work. Tommy is very professional and does amazing work. He communicates with you during the entire process so you know exactly what he is doing and when. He is very knowledgeable about what he is doing, and always willing to educate you on the process. We are so excited about our new deck and look forward to enjoying it for years to come!

Lauren Long
If you're looking for a company that's consultative, dependable and does high-quality work, these are the guys to do it. Tommy and his son were the kindest, most professional and detail-oriented people and we couldn't be happier with our new deck. They are very passionate about the business and it shows in their work. I would highly recommend Solid Ground!!!

Julie Holdener
Tommy and his son did an amazing job our new deck. We love it so much! He was very knowledgeable about the issues with our previous deck, and worked with us to explain various options and how they would affect the budget. Was happy that we hired him and would definitely hire him again!

Richard Ivy
Not only did Tommy restore our faith in a small business, he exceeded our expectation. Very trustworthy, open communication step by step and most of all dependable and reliable.
We bought a house with a deck that was way past its prime. Solid Ground gutted it and replaced it with a great looking cedar deck. Done quick and reasonable. Can't ask for much more.
Purchased my house in 2004. From day one the driveway was bad. It was a poorly done drive. Rain washing away the layers year after year. After many HOA letters and a drive that could no longer be kept clean I reach out to Solid Ground and all I can say is that I now have the best looking driveway in the entire neighborhood of 400 plus houses. Apparently the word is out because the traffic that has came by just to look at it has really increased. Tommy was great to work with and I made a friend to boot. Win win all the way around. Thanks again.

Jodi Luebbers
High quality work at a reasonable price. A pleasure and easy to work with. A+
Stand up company and crew. Would definitely use them again.
Geoff Holstein
love their work. they do it right the first time so folks can get back to their lives & routines as soon as possible.

Jim Worstenholm (Auto Tint)
Reasonable price, quality work, quality guy. What more could you ask for? I will be referring Solid Ground to everyone!

Daniele Klees
Let's Get Started on Your Next Deck or Patio
Schedule your consultation and we'll be in touch soon